"… In one company I was over-delivering every year. Then in the other company… I was busy just making sure I wasn't getting stabbed in the back."
Dalia Feldheim
The way leaders treat their employees affects job satisfaction and performance, which in turn impacts the success of a brand. Empathic leaders create a thriving workplace, ultimately leading to happier customers. Conversely, a leader who lacks empathy can negatively affect employee performance and ultimately harm a brand. Creating an authentic brand that people align themselves with requires leaders who prioritize empathy and authenticity in their interactions with employees, customers, and the world.
To help influence leaders and teach them about different ways they can make an impact, we've outlined some characteristics of empathic leaders and how their actions enable them to build authentic brands. We've included quotes from empathic leaders we've spoken to on our Brand Story Podcast, each sharing unique leadership experiences in different settings and styles. Building authentic relationships is at the core of their work, and all have significantly impacted their brand and the people around them.
---
"If you put a message out in the world that isn't authentic to your brand or your culture, when your customer experiences something different than that, they're not going to come back."
CEO of WVU Medicine Uniontown Hospital
What is Authentic Branding?
Brand authenticity is about being honest and transparent while keeping a consistent, original personality that reflects the mission, vision, and values of a brand. An authentic brand fits those criteria, communicating openly and honestly about its business to shareholders, employees, and customers. Authentic brands aren't perfect, no brand is, but they are consistently true to who they say they are.
---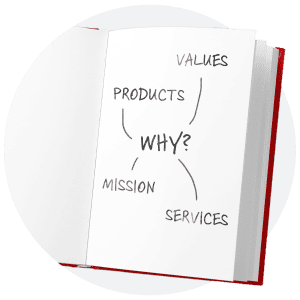 Defining Your Story
Just like people, every successful brand has a story. As a brand, the first thing you'll want to do is define your "why." Whether you're starting a new company or have years of experience, you need to be able to define why you're in business and the problem you solve for your audience. Your "why" helps shape your brand promise, or what you intend to provide to customers.
Suzanne Bergmeister helps her entrepreneurship students find the "why" of their new ventures by ensuring they acknowledge the problem, not just the solution they provide. She shares, "They fall in love with their technology and they fail to fall in love with the problem. If there's not a problem out there for that technology to solve… then you don't have a business."
Storytelling
Everywhere we look in life, there's a story being told. Whether they're told intentionally or not, stories grab our attention and take us on a journey. While one of the most popular mediums for storytelling is video, you can share your story through other marketing channels, such as social media, email, or radio.
What's the key to telling engaging stories? Empathy. Claude Silver, Chief Heart Officer at VaynerMedia, says empathy is shown "through kindness and compassion." It allows your brand to connect with people on a deeper level by being relatable and evoking positive emotions.
By shifting your perspective from "product-focused" to focusing on your audience's journey, you can understand the path they're on and how to help them from beginning to end.
Jay Harrington clarifies the distinction between focusing on your products versus your story. He says, "The ability to tell an interesting story about yourself, about your business, about your background is what allows you to create that positive association in a way that talking about characteristics, qualities, and services just can't accomplish."
Want to learn more about storytelling techniques? Our blog post, Storytelling for Brands, demonstrates the different ways you can share your story with your audience and the benefits of doing so.
---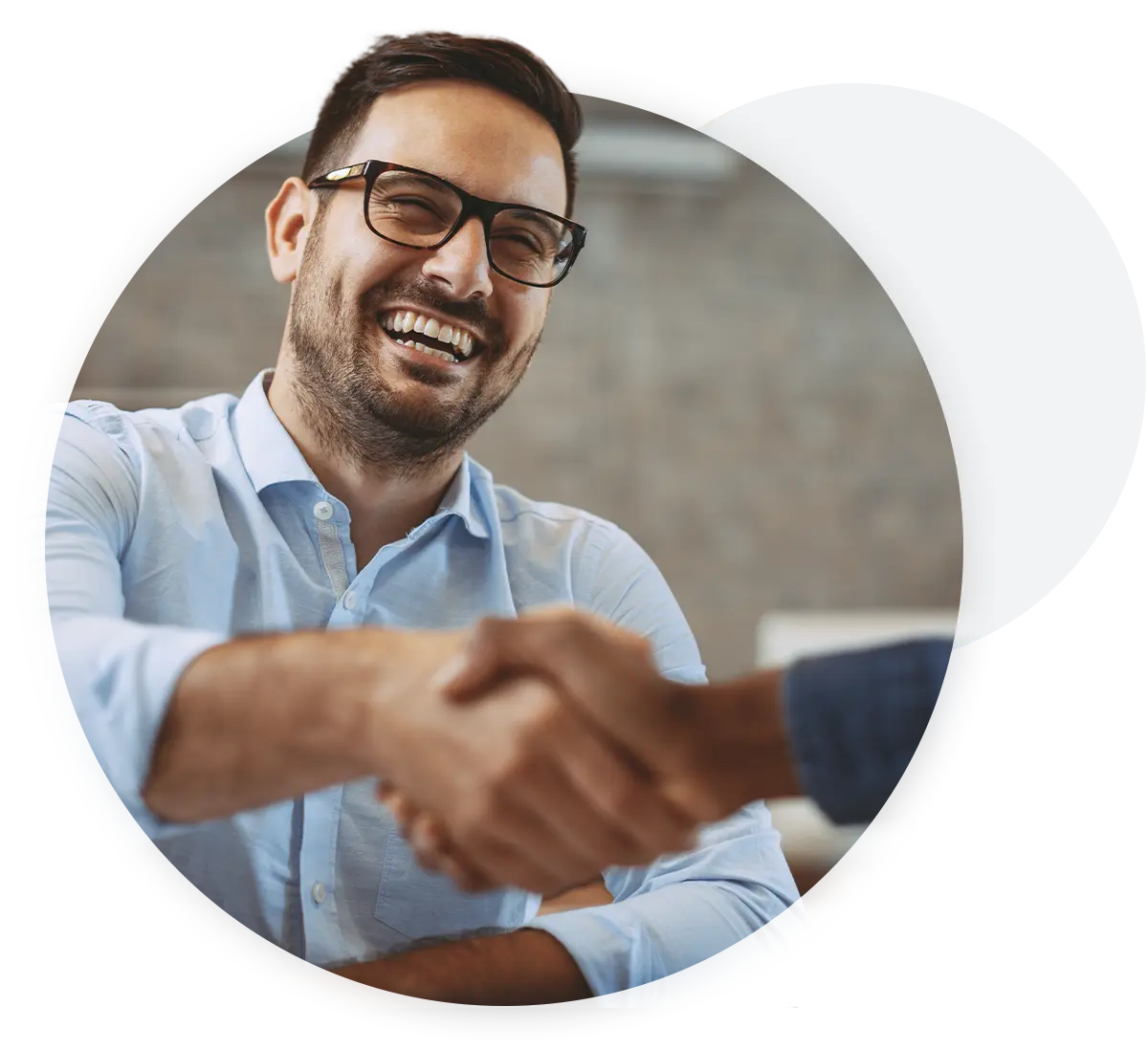 Humanizing A Brand
Earning your audience's trust involves associating human characteristics with your brand to make it more relatable. Whether it's the CEO, a spokesperson, or a cartoon character, your audience will enjoy seeing a friendly, familiar face. Other ways to give your brand an authentically human feel include being intentional about the way you talk and making sure the humans behind your brand are treated well and fulfilled.
Laura Hutfless, Co-Founder at FlyteVu, works with brands and celebrities to build campaigns that everyone in the room connects with. When working with a team, she asks, "At the end of this program, what are you going to be most excited to tell your family about?" She shares that it won't be KPIs, instead it's the impact made on other human beings' lives.
Your Brand's Tone
What you say to your audience matters, but how you say it matters even more. Since every brand has a story, a brand's voice should have feelings and emotions that are shaped by that story. Having a personality and tone for your brand that people can relate to is crucial for building relationships with your target audience.
"We're intentional in the way we communicate. We want it to be personal. We're part of a big company, but we want to be human – to our customers, to our employees – and make sure they understand we care."
President of Riddleberger Brothers, Inc.
Employee Satisfaction Impacts Quality
Skilled, motivated employees that dedicate themselves to their field often derive from happy workers that are well taken care of. When your employees are thriving, it's because they have the resources needed to live a fulfilling life. A satisfied employee equals higher-quality work. For consumer-facing positions, this could mean the difference in employees earning you five-star reviews versus one-star reviews with complaints about the service. Investing in your employees leads to your brand gaining unique expertise, one that's only obtained through long-time staff that have been able to grow with a company.
Daniel Blosser, President of Riddleberger Brothers, Inc (RBI) and employee of 30 years, has taken a unique approach to leading a B2B company in the mechanical contracting field. Daniel has worked tirelessly to make the brand personal and relatable for employees and customers. From the way RBI uplifts employees to the conversations they host on social media, RBI is as human as any of us.
---
Standing For What You Believe In
You might already know all the ways to build an authentic brand but lack the support to make a change. Dalia Feldheim, marketing professional, author, and Founder of Flow Leadership Consultancy, knows this all too well. She shared with us a story of the contrast in managers she experienced when doing her best to produce quality work. When experiencing emotions in the workplace, Dalia's managers at two different companies had drastically dissimilar responses.
Manager at Company One

"I'm frantically trying to regain my composure and he smiled at me and offered me a box of tissues. When I finally regained my composure he said… 'Dalia, don't you ever be embarrassed for crying in the office again. That's a sign of your passion, and passion is your superpower.'"

Manager at Company Two

"I was becoming so frustrated that a tear appeared in my eye. He smiled at me and offered me a box of tissues… on the other side of the tissue box he prepared a handmade sticker… which basically read 'Dalia's tissue box.'"
The workplace toxicity that Dalia experienced led her to become an empathic leader that helps others stand up for themselves. As the leader of her own company, she exemplifies empathic leadership and helps improve workplace culture for other organizations.
---
How Personal Growth Relates to a Brand's Growth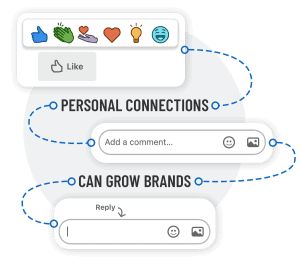 When you, as a leader, are growing, you're helping your brand and the people around you grow.
Building relationships on platforms like LinkedIn proves highly beneficial for both personal and professional growth. By interacting with the community, you help put a face to your brand's name. When people see the CEO or president of a company sparking conversations and uplifting others online, it helps humanize the brand. While building your personal brand and relationships, you're doing the same thing for the company.
Tara Horstmeyer explains how easy it is to just start conversing online. Instead of thinking about something, comment on it. She says, "What if I just took a second to make that thought tangible and encourage and potentially start a relationship."
---
Authentic Branding Through Empathy
Whether you're a tenured executive or an aspiring leader, practicing empathic leadership will make a difference in the lives of those around you. It's an empathic leader's job to build an authentic brand that employees and customers are excited to be associated with. Leading with empathy and sharing your brand's story helps humanize the brand, enabling you to better relate to people on an emotional level.
Key Takeaways
How you treat employees and speak as a brand helps form connections with your audience.
As a leader, you represent your company. Building relationships will introduce opportunities for your brand. Seeing the leaders of a brand being human also helps humanize the brand, further connecting your audience with your story.
Becoming an authentic brand takes time and dedication.
You must always be transparent about what your brand stands for.
When communicating your story or marketing messages, be sure to talk to people, not at them. Rather than talking about yourself, opening a conversation inspires action and encourages engagement. Let your audience know that you truly value their input, and the results will pay for themselves.
Now, it's your turn. When the opportunity presents itself, or if it already has, show empathy when leading a brand. Being yourself, while being there for others, goes a long way when it comes to representing a brand. If you're a leader looking for help transforming your brand, let us know. Our job is to help build brands like yours and to help you share your story while achieving your goals. Check out our approach to branding to learn more about brand strategy and bringing your story to life. Or, you can contact us to learn how we can help!