Every brand has the dream of ranking on the first page of Google. Even better, in the number one spot. As consumers face a larger sea of content than ever before, gaining website traffic from search results has become difficult for many brands. Standing out from the competition and getting in front of your audience with the right content at the right time is crucial. That's where Search Engine Optimization (SEO) becomes your brand's best friend.
SEO is the combination of research, copywriting, and overall optimization of the individual pages on your website to gain more traffic from search results. The goal is to write meaningful content for people while outranking competitors on search engines.
Before Beginning Your SEO Efforts, Remember…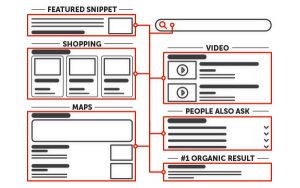 Your main objective is to write meaningful, relevant content for people.
A common misconception is that a website is what shows on Google and that SEO helps your website rank. In reality, your individual web pages (homepage, about page, product/service page, blog post, etc.) are what will show up on the Search Engine Results Page (SERP). SEO involves enhancing these individual pages so they each have a greater opportunity to rank, as opposed to your website as a whole.
There are many factors when it comes to ranking on the SERP, and there are various ways your content can be shown.
Each section below will explain the benefits of optimizing your web pages, as well as action items you can apply today to get your content in front of your audience.
Include the Right Amount of Relevant Keywords
Wouldn't it be awesome to be able to tell Google, "Hey, our content is great and everyone should read it"? While it isn't quite that straightforward, search engines do learn what your page is about by crawling and indexing the content of the page, looking for keywords that provide context. This gives the search engine a high probability it's showing users the most relevant information for the search intent.
Some key places search engines will look for keywords to learn what your page is about include: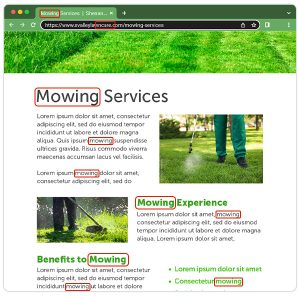 Title Tag: Title tags show up in search results as the title of your page. They're also shown as the largest header on your page and appear on the tab at the top of a browser.
Meta Description: This is the short page description (under 160 characters) that shows under the title tag in search results. It gives users and search engines an idea of what content they'll find on a page. For the greatest chance of attracting visitors, be sure that your meta descriptions provide answers and entice visitors to read further.
URL: Including keywords in your URL reassures searchers that they're going to find the topic they are looking for on your page.
Content: The copy (words) on your page is the most natural way you'll be able to talk about your target keyword in-depth. It's a general rule to include your target keyword at least once in the first paragraph of your page, in subheadings, and three other times throughout the page.
Low-Volume Keywords
While going for the most popular keywords may be tempting, trying to rank for keywords that have less search volume often provides more website traffic. When doing keyword research, consider targeting long-tail keywords and semantic keywords.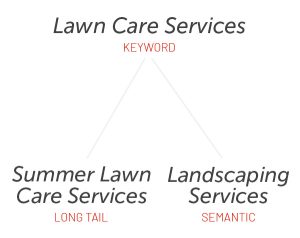 Long-tail keywords branch off from a short, generic keyword. They provide more detail and context that people looking for a specific product or service would search for. Most people won't just search "dog food" but might look for "all natural dog food." A brand selling all natural dog food should tailor the keywords in descriptions, pages, and posts so the brand can rank for the specific query.
Semantic keywords are variations or synonyms of your target keyword that users might search to find your product or service. Understanding what terminology your audience uses can help you tweak your keywords to guide potential customers to your brand. For instance, a brand might use the keyword "Lawn Care Services" but people might be searching "Gardening Services" or "Landscaping Services."
Both Moz Pro and Ubersuggest are SEO tools that you can use to conduct keyword research, including checking keyword volumes, similar terms, and rank tracking.
The Importance of Keyword Relevancy
Whether you want to rank for short, high-volume keywords or low-volume keywords, you want to make sure you're only including keywords where it makes sense to the reader. Over-using keywords for the purpose of trying to get your page noticed by search engines is called keyword stuffing, and is frowned upon by both search engines and readers.
Optimizing Images
Adding images to your webpages is a great way to break up text and engage visitors. When it comes to optimizing images, there are two fields you want to focus on: file names and alternative text (alt text).

File names should be as short but descriptive as possible. To help search engines understand what the media is about, include keywords relevant to the image and page it's on and replace spaces between words with a dash. Having your brand's name in the file name, when relevant, is great for getting your name out there if someone else uses your image, or if it shows up in search engine image results.
Alt text is descriptive text of what your image is. It's what displays if the images don't load or are read aloud using assistive devices for those who can't see the image. An outstanding example of alt text comes from the images taken by the James Webb Telescope. The Webb Space Telescope's site describes this image in its alt text as: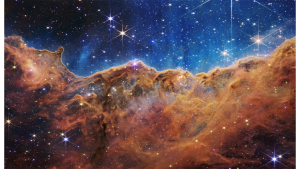 "…Speckled across both portions is a starfield, showing innumerable stars of many sizes… The upper portion of the image is blueish, and has wispy translucent cloud-like streaks rising from the nebula below. The orangish cloudy formation in the bottom half varies in density and ranges from translucent to opaque… The cloud-like structure of the nebula contains ridges, peaks, and valleys – an appearance very similar to a mountain range. Three long diffraction spikes from the top right edge of the image suggest the presence of a large star just out of view…"
SEO For Blog Posts
Your brand's blog posts will give your site a lot of authority, which is important to label your website as credible to search engines. If you use WordPress, check out the Yoast SEO performance tool. With Yoast SEO, you can ensure that your blog posts are hitting SEO standards. It tells you how the content scores based on keyword density, word count, title width, and other factors.
Where to Use Keywords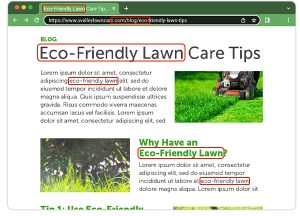 Keywords are essential to ranking for a specific topic. To best optimize for search engines, you'll want to include your main keyword in every section of your blog post's page. Your keyword should be towards the beginning of the H1, or main title. It's also good to include them in subheadings, such as H2s or H3s. In the copy, you should use your keyword naturally at least three times. To prevent keyword stuffing, it's good to use semantic keywords. For example, if your focus keyword is "Best SEO Tips," you could interchange that with "Top SEO Tips."
Keeping Visitors on Your Blog Post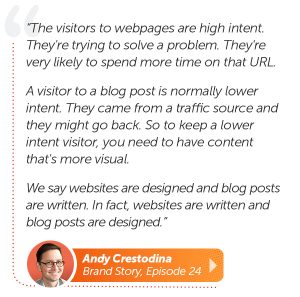 One goal of creating content is to keep visitors on your website for as long as possible. This can be achieved by writing in-depth, engaging content that answers all questions a visitor might have about a certain topic.
Including images and videos that complement your writing helps engage readers who want to learn more. Since blogs are text-heavy, it's standard to include media to give the reader's eyes a break, and videos and images can help to explain or reinforce your message. A good way to tell if you have enough imagery in a blog post is to have one image or video visible every time a reader scrolls up or down the page.
On an episode of our Brand Story Podcast, Andy Crestodina from Orbit Media Studios, Inc. gives us some insight on why it's important to make your blog posts visually engaging.
Repurposing Content That Works
Whether you're running out of content ideas or you have posts that are performing well but outdated, repurposing old content is a great way to increase visits to your blog. Updating old content can be as simple as adding new, current data and sources, or as in-depth as creating a new video or adding new sections to a post. As long as you don't change the URL of the post you're updating, it'll keep all its previous metrics and authority.
Analyzing your posts and knowing what's working can help you create similar content, or remind you to refresh well-performing pages every once in a while to keep them relevant. Likewise, knowing what isn't working is important so you can get an idea of what to change.
SEO For YouTube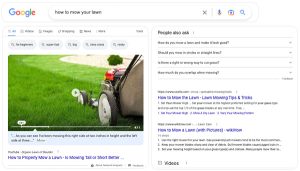 Videos on the Search Engine Results Page (SERP)
Google is always changing their search engine algorithm to find what's optimal for searchers. Recently, there's been a big change in the type of content appearing on the SERP, showing less organic website links and more videos and other features. As you can see, certain searches prompt videos to be shown before other content on the SERP.
Tag Research
Just like your webpages, including keywords (called tags on YouTube) is important to how your video ranks. Since users are probably looking for information about a specific topic, YouTube is a great place to use long-tail keywords. It's recommended to keep tags under four words, and to use up to 15 on a video.
Thumbnails
What would you rather click on: A video with a brightly colored thumbnail and people's faces, or one with a plain white background and some generic text? Chances are, most people are going to click on the video that looks the most interesting. While thumbnails aren't a ranking factor, customized ones will likely get more clicks, signaling to the search engine that your video is quality content.
To learn more about how you can use video to boost your digital marketing strategy, read our blog "Why Video Marketing is Important for Your Brand."
Local SEO
While a lot of searches for products show results for large businesses, like Amazon or other retailers, searches for services often show local businesses. Local SEO helps small or community businesses compete on the results page and maps. With research and strategy, your brand can become the top in its industry in your area.
Google Business Profile and Directories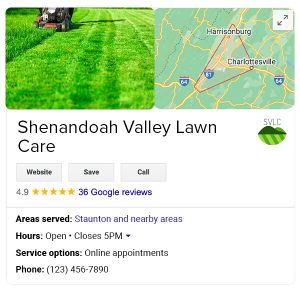 Do you ever wonder how Google knows so much about certain businesses, like what hours they're open, what services they offer, or why they're a good match for a particular search query? Google obtains all this information from Google Business Profiles.
If your business serves customers at your physical location, you can add or claim your Google Business Profile on Google. Here, you'll want to update your information and services with keywords where possible. For other search engines and maps, it's also important to keep your information up to date. With a tool called Moz Local, you can update your business' images, hours, locations, and more on about 20 search engines, maps, and directories all at once.
Local Keywords

Including your target location (city, state, or region) on your website signals to search engines where you're located. This helps you rank on the results page for search queries that include a location, such as "Restaurants in Harrisonburg VA" or "Lawn Services Shenandoah Valley."
One place you can add local keywords is the title tag of a page. You can customize what is shown as a title in search results, the tab at the top of the browser, and what actually appears on your page. You can also include local keywords in the copy on your service pages and in meta descriptions.
Competitor Research
Knowing who your local competitors are gives you a base understanding of what you should be optimizing. Here's a brief rundown of analyzing local competitors: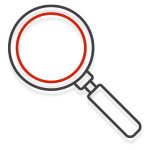 Search: Determine who your local competitors are by doing a quick search of your product or service with the city, state, or area you want to target.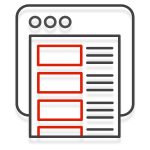 Review the Listings: A map will show with Google Business Profiles of businesses in the area. Under the map listings are organic results with pages most related to the search query. The businesses in the map and search results may differ, so make sure you're analyzing both areas.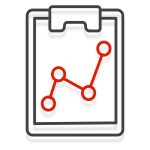 Analyze Each Business: What is helping each business rank? Is it the hundreds of five star reviews they have? Or is it how easy their keyword optimized page is to navigate? If a competitor is ranked higher than your business, all the details matter.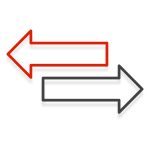 Compare: After you've taken a thorough look at your competitors' websites and online profiles, it's time to see where you might be able to improve your website to boost rankings.
Analyzing Your Content Regularly
Conducting a regular SEO analysis will help keep your content fresh and increase your chances of ranking higher. Google provides a couple tools that let you easily analyze your pages and find opportunities to improve them.

Google Analytics provides data for all pages and the behavior of your site's visitors. Within Google Analytics, you can change the date range and look at:
How many visitors viewed a specific page
What page they entered and left your site from
How long they spent on the page
Your bounce rate, which Google Analytics defines as, " The percentage of single-page sessions in which there was no interaction with the page."
Google Search Console can be used to check your technical SEO, or website health, and see what people are searching to end up on your site. Search Console is also responsible for showing you what pages of your website are indexed and viewable by Google. This is helpful to ensure Google knows your pages exist and are functioning well.
Wrap Up

If you're new to search engine optimization, it can be overwhelming. The easiest way to start optimizing your web pages is to tackle one task at a time. See the review below, or, you can click to download our editable checklist to see the highlights from each section and begin planning your SEO strategy.
☑ Keywords: Start researching what keywords you want to rank for, and find a few places to strategically incorporate them into your pages. Include your keyword in title tags, meta descriptions, URLs, and naturally in your copy. Remember to use long-tail and semantic keywords.
☑ Images and Videos: Optimize the media on your site by adding keywords to file names and writing descriptive alt text.
☑ Blog Posts: Use interesting keywords on your page and in your writing to help rank on search engines. Encourage visitors to read your full post by including photos and videos to keep them engaged. Update posts that are receiving traffic, and create new posts based on ones that are doing well.
☑ YouTube: Post all your brand's videos to YouTube so they have the potential to rank on search engines. Add relevant tags and create engaging thumbnails that entice people to click on your video.
☑ Local SEO: Claim and update all business profiles. Add local keywords to your pages and research what your local competition is up to.
☑ Analyze: With the help of Google Analytics and Google Search Console, you can see metrics for how visitors interact with your pages. Look at how much traffic each page gets, as well as how long people spend on your pages and how many exit without taking any action.
Hopefully you've learned some SEO basics and steps to apply them. SEO isn't one-and-done, it requires regular analyzing and maintenance to stay effective – optimization is an ongoing process. As Google continues to change its algorithm, you'll want to make sure your content is suitable for what it's looking for. Remember that people are your true audience, so keeping content up-to-date for them should be top of mind. Google Analytics and Search Console will become your best friends in no time!
Interested in taking your brand's SEO to the next level? Contact Us to learn more about how we can help!