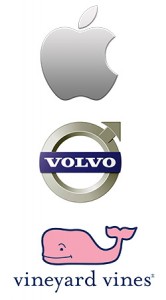 Many executives and business owners don't think of their brands as having a personality. But all successful brands possess both human characteristics and emotional differentiators. For instance, Apple is cool and knowledgeable. Volvos are safe and reliable. Vineyard Vines is relaxed yet refined. A brand's personality is expressed through many channels: the brand's identity system, marketing collateral, digital presence, experiential marketing, promotions, and facilities. And, most significantly – the people who work for the brand and interactions they have with customers.
Brand personality is an important component in building or positioning a brand. It is key to successful differentiation and can be critical in markets where products or services are similar. Consumers buy emotionally, so ultimately they choose based on what they feel and like.
One often overlooked component of brand personality is that it should be created and carefully maintained to intentionally compliment a brand's target audiences and specific target personas. Brand personality should also be communicated internally with consistency and closely monitored and adjusted as needed.
Gravity Group is a full-service brand, marketing, and video production agency. Learn more about our Branding Services or Let Us Know how we can help your brand!