Gravity Group selected NewBridges Immigrant Resource Center as the winner of its 2011 Brand Challenge earlier this year. Since then, we've had the pleasure of working with NewBridges to develop a fresh brand identity – including a logo and tagline – as well as a brochure, a social media strategy, and more.
NewBridges provides a valuable service to our community, so we wanted to help them increase their awareness and to better tell their story to their clients, donors, and volunteers.  We started with their brand identity – the NewBridges logo featured a very literal representation of a bridge, without any color or other elements that helped tell their story.  We wanted their new logo to represent the human side of NewBridges, showing how the organization brings people, resources, and communities together.
The "bridge" in the new logo evolved to be comprised of seven "stones" of varying shades of color that represent a number of elements – steps in a journey, many types of people (different races, different cultures, different beliefs), etc..  Additionally, we upgraded the look of the name "NewBridges Immigrant Resource Center" with a bold new font to represent the stability and reliability of NewBridges to the people they serve.
The next component of NewBridges' brand identity we developed was a new tagline – "Connecting cultures, building community".  This descriptive tag represents how NewBridges works to bring many different cultures and types of people together to build a community in which differences are respected and celebrated.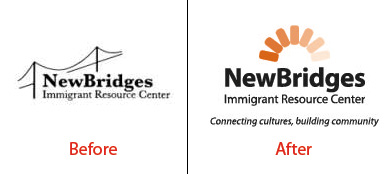 Along with these new elements of Brand ID, we developed a Brand Standards Manual (outlining logo usage, colors, brand personality, etc.) as well as a social media strategy and other templates to help NewBridges personnel spread their own story.
I've really enjoyed working with Alicia, the Director of NewBridges, over the past few months, and am excited to see the reaction that their new brand identity receives from their clients, donors and volunteers.
Do you know a nonprofit that would benefit from the services mentioned above? Encourage them to apply for Gravity Group's 2012 Brand Challenge. More information will be available on our website soon – stay tuned for details!