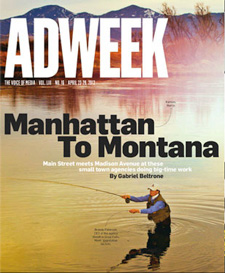 I'll let you in on a little secret – we love working with our clients. It's true! Those of you who have worked with us know that we're passionate about finding what's unique and special about your brand and shining a light on it. But this week, the tables were turned on us.
Adweek, a national publication that is a go-to resource for marketing and media professionals, wrote an article about agencies in small communities that use their marketing expertise and passion for positive brands to serve local and regional clients. And the article recognized Gravity Group!
A writer for Adweek contacted Gravity's President, Steve Gilman, while searching for agencies in small communities that produce national-caliber work. His article would feature ten agencies from across the country, and the writer wanted to include Gravity Group on the list. Although we're not used to being in the spotlight like this, we feel honored to be recognized with this group of great agencies. The full article is available on Adweek's website (check out the map halfway down the page to see Harrisonburg!).
Want to know more about what made Gravity's brand and marketing experience stand out – and how to leverage it for your brand? Contact us today! And don't forget to subscribe to our blog to have brand and marketing tips delivered right to your inbox!