It's not often you see a beautifully clear – not to mention drop-dead hilarious – example of successful cross-marketing. But that's exactly what marketers for both the Dodge Durango and the new film "Anchorman 2" have produced.
The first piece of this delightfully funny campaign I saw was a television spot that ran during Monday Night Football. I loved the first "Anchorman", so the image of Ron Burgundy in all of his glory made me leap for the remote to turn up the volume. What I saw was such a pleasant surprise: they actually pulled off marketing the new film and the new Dodge Durango in a way that was clever, rich, and appropriate for both brands –
The element of this campaign that really gets me, though, is that there's a good chance you've already seen this. And that's because the other dimension of this effort – social sharing – has caught fire. And it's completely intentional. As was the case with other past "you've gotta see this!" campaigns (Dollar Shave Club's "Our Blades are Great", Volkswagen's "The Force") people have been sharing these spots a great deal. One visit to their YouTube channel, and you can see evidence of this in the millions of views they've logged.
Go ahead – check out their channel. See if you can resist watching all the videos in this series… I couldn't.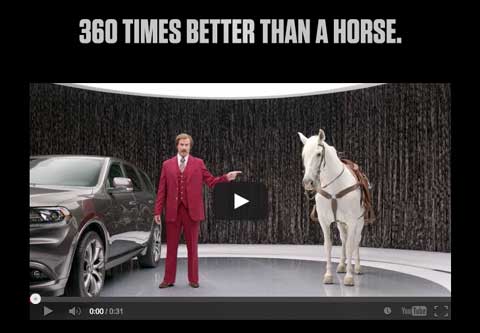 So – a very Burgundy-esque "Tip of the cap" to the folks behind this brilliant cross-marketing campaign!