I feel lucky to share our second adoption story with you – meet my wonderful pup, Jillie. You may have seen her around the office – she's excited to be Gravity's official greeter – or maybe you follow her on Twitter @JillieGravity. Here's a look back at where her story starts.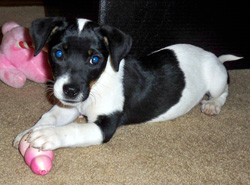 I found Jillie at one of the saddest parts of my life. I had recently lost my dog Missy to cancer after a whirlwind six-week fight. For a number of reasons, the loss hit me extremely hard. My house no longer felt like a home, and the yard I fenced in for her seemed empty. Having always had a passion for animal rescue, knowing that there were dogs who's lives depended on finding a home – and soon – spurred me to search for one who would be a good fit for mine. And that's where Jillie came in.
I found Jillie on Petfinder.com, and she was living in a foster home at the time. Her foster mom rescued her and her brother Jackson from a shelter in rural West Virginia where they faced a greater likelihood of being euthanized than adopted. Jillie was about ten weeks old and suffered from kennel cough and fleas. But when she looked at me with her sweet little sneezy face and big brown eyes, I knew she was the one for me.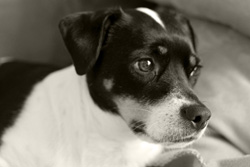 That was nearly four years ago, and I can't imagine my life without her! She's grown into a smart, playful dog who is well behaved and fun to have around. Having gone from a shelter pup to an office dog, Jillie is proof that adopted dogs can be wonderful pets. She turns four this Saturday, and the only thing she asks for on her birthday is that you give the gift of life and #AdoptDontShop. Doing so literally saved her life. Pass it on!